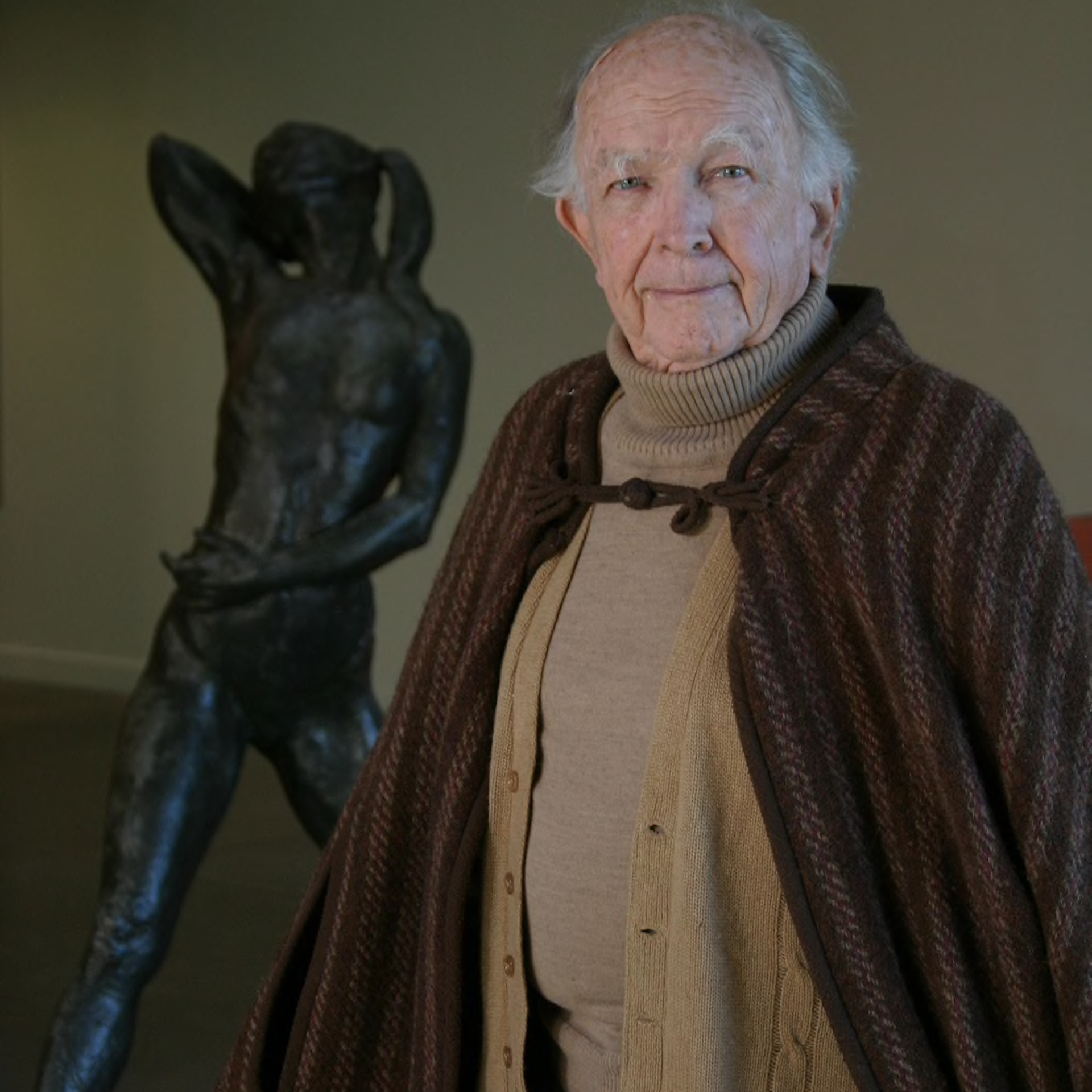 Waddell was born in Des Moines, Iowa in 1921 and moved to Evansville, Indiana at the age of ten. There he began to study art at the Katherine Lord Studio, and by the age of 16 was teaching classes there. In 1939, he graduated from high school and moved to Chicago where he had received a full tuition scholarship to attend the School of the Art Institute of Chicago.
His education was interrupted by a stint in the military from 1943 to 1945. The following year found Waddell back in Chicago attending the School of the Art Institute and then the University of Chicago on the G.I. Bill. In 1947, his teaching career resumed and he taught at the YMCA Adult Education Program in Chicago until 1954. He moved to Evansville in 1955, this time teaching at the National College of Education. From 1955 to 1957, Waddell served as head of Art Education at the Illinois Institute of Technology before relocating to the Southwest where he became head the Art Education school at Arizona State University (at that time Arizona State College). In 1964 he resigned from that academic position to devote all his time and energy to his sculpture.
Waddell spent the early 1960s in Mexico, continuing to create new works and studying the casting process. In September 1963 a bomb exploded in a church in Birmingham, Alabama, killing four young girls. This prompted Waddell to create That Which Might Have Been: Birmingham 1963, a work that was set up at the First Unitarian Universalist Church in Phoenix in 1969. A second casting was later installed at the Carver Museum and Cultural Center in Phoenix.
1965 found Waddell and his growing family moving to Greece where he continued working on commissions as well as learning the ancient Greek traditions in sculpture.
Through the combined efforts of two Phoenix philanthropists, Walter Bimson and Lewis Ruskin, Waddell received a commission in 1970 to create a major work for downtown Phoenix. When completed in 1974, Dance consisted of eleven life-sized figures in various dance positions and another figure playing the flute. Although the piece has been moved from its original location in the Phoenix Civic Plaza to the sidewalk in front of the Herberger Theater, it remains Waddell's tour de force in his adopted home of Arizona.
It was while completing Dance that Waddell formed the apprenticeship program that was to occupy the teaching slot in his life until 1992. Under this program, apprentices were able to study every aspect of creating major works of represential sculpture, from working with live models through casting and finishing the final project.
This sculpture was created in the early 1970's and was a study for one of the life-sized figures installed in downtown Phoenix, Arizona.
Read More