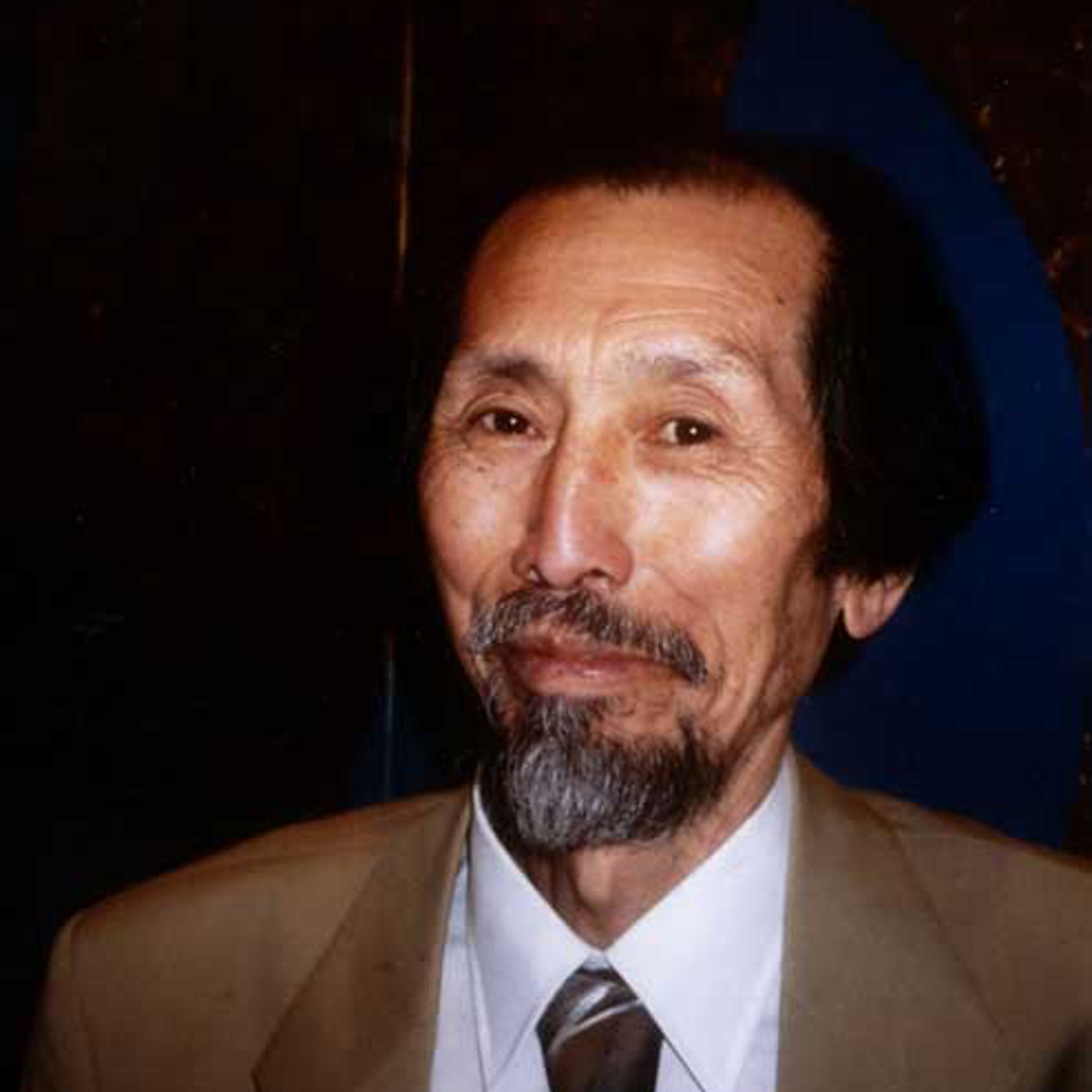 Windows to the Universe
"I have heart and I also communicate with people who have heart. When I paint, I also pray. Searching the new in art is always like praying." - Kenji Yoshida
By K.C. Compton

If an artist were needed to illustrate the book of Genesis, Kenji Yoshida would be the logical choice. Although his oil paintings are categorized as abstract, they seem more like a deeply truthful portrait of that territory we sometimes glimpse in deep contemplation or in prayer. They feel like a snapshot of God. Stand in front of one of Yoshida's large works, close your eyes and breathe deeply. Now allow yourself simply to look, calmly and quietly for as long as your spirit is inclined. You may notice, as others have, a gradual stilling of the mind's incessant chatter, followed soon by a feeling that something small and frightened inside you may be loosening its grip.

This is the magic of Kenji Yoshida's peerless art. Passionately serene, vibrating with exuberant harmony, it represents the encounter and coexistence of opposites brilliancy and utter darkness, motion and heart-stopping stillness. For Westerners who have never understood the concept of yin and yang, the cosmic opposites that comprise life itself, Yoshida's canvases provide an instant education.
"I want each of my paintings to be a prayer for peace," says the artist. "There is much sickness, much malaise in the universe. I want the work I do to help heal the destructiveness and pain and remind people that there is also in this universe someplace where there is no separation or conflict."
Separation and conflict are much more than abstract terms for Yoshida, whose own life has known much turmoil. Born in Japan in 1924 to a family of farmers, Yoshida knew early that his life was meant for art. By 19, he had graduated from school to be a teacher; but had already begun to study art with Hayashi Kiyoshi and with Furukido, both of whom he greatly admired.
When the war heated up in the 1940s, Furukido told him, "Do not go to war. Choose to live." But Yoshida felt it was his duty to serve and he joined the Marine Air Force. He became a pilot and saw many friends, as well as his treasured Furukido, die in the war.
But after the war, Yoshida heard Furukido's words with a new intensity; and they became his life's great commission-to choose life, to create art that celebrates the majesty and wonder of the living force. Most of his later works share one title: "La Vie"--life. For decades, his work has been completely directed toward Seimei, which in Japanese means "The Act of Living."
Moving to Tokyo in 1951, he taught art and exhibited works in oil beginning in 1957. In 1964, he moved to Paris to devote himself completely to his art and slowly built up a reputation as a printmaker of great originality. A series of personal losses, including his beloved wife and his old teacher Hayashi Kiyoshi, in the 1980s brought him back to creating in ever-increasing scale oil paintings whose content became more and more confidently serene and spiritual.
Speaking of the loss of his loved ones, Yoshida's animated expression becomes perplexed. "Where do they go?" he asks. "Where do they go?" It is a rhetorical question, for in the next breath, the artist answers. "I don't think they disappear. I think they are in Paradise, where there is no pain or suffering, no alienation."
He believes a universal joy is both our origin and our ultimate fate. And he makes it clear that this assurance is at least part of what he is trying to convey in his paintings, through line, form and a forceful use of color.
"I've been a painter since 55 years ago," he says through his friend and agent Jose Ferez. "I've always looked for form, for the right shape. I've never thought about exhibitions or traveling, or whether people would like my work. I've just always looked for the right forms."
Although he was described in the early 1960s as a "brilliant colorist," for many years he worked almost exclusively in black and white or silver.
"Everybody who starts painting uses a lot of colors," he says. "Then the ones who pursue painting more start using the colors that are in accordance with their own spirit, and they begin to throw out the colors that do not reflect their Spirit."
"I threw out all the colors once," he says. His eyes dance as he relishes the tale- imagine, a "brilliant colorist" throwing out every color- "And I used only white and black-like yes and no, presence and absence, micro and macro."
"In 20 years I only did black and white until one day I thought I was dying and I said, Really Yoshida, is black the last color that you are going to use?' So I began to question myself and see what colors I would like to use now."
The colors he allowed back into his palette were few and bold: Teal and red, a piercing blue and a deep, rich green. And metal -radiant slivers, golds and bronzes that give each of his canvases their sense of excitement and transcendence.
"I ask, 'Who has given me this gift?' God has. And what is the color of God?' Brilliancy. Silver. Gold. So in my paintings, these are the colors of God."
The sense of movement in Yoshida's work, his use of simple, universal forms, and what one reviewer has called his "inescapable sense of gravity," may be traced to his roots in traditional Japanese painting and calligraphy, of which he is a master. Although Yoshida doesn't paint on sliding panels or folding screens in the traditional method, he has been called one of the greatest screen painters in this century because of his compositions that unfurl themselves across two, three or even six large canvases. Artists of any non-Western culture might study Yoshida's work to discover their own solutions to the perennial question of how to use Western styles and techniques without destroying their own cultural roots. All the tracings of traditional Japanese art are in his work, in a place of honor; as befits a revered ancestor. However, his imagination has thrown its net over much wider waters and encompassed much that is Western as well.
The result is not just a trans cultural body of work, an amalgam of East and West, but a kind of visual synergy that transcends the limitations of each.
And for the viewer who takes the time to see, rather than simply look at, his work and spend some time in contemplation, a profound conversation can occur. Yoshida believes that this dialogue actually does occur in the realm of the divine.
"Whenever you contact an image with the thought of God (in your mind), it will never be dead," he says. "A lot of painters now don't think in those terms, therefore their work cannot draw that force. But if objects are connected with a great thought, with the Universe, they will reflect a universal truth."
-Focus/Santa Fe, January-February-March 1994, used by permission
Artists' Statement:

I paint to tell people the importance of Inochi To Heiwa or Life and Peace. My honorable professor, Furukido Masaru once told me: "Yoshida, don't take up a rifle", take up painting!" During the Pacific War, Mr. Furukido refused to
take up arms and spent the rest of his life instructing others in the Pacifist cause.

Against his will I became a soldier. I spend days in meditation on Life and Death, witnessing the death of many of my companions and civilians. After the war, I was still alive, and, when I thought about how I should live and what I should do, the lesson my professor once gave me came back to me.

What people consider most important is Life and Peace. The most horrible act that destroys them is war. War should not exist. The only way to build Peace and to give importance to Life consists in giving people mutual confidence to
discuss these two values and to try to make them become real. I understood the teaching of my master: "Yoshida don't take up a rifle, take up painting" as my own
mission from the gods, given to me at the same time as life.

Every morning and every evening I express my gratitude for still being healthy today at the age of 83, and I reflect on my own insufficiencies with remorse, praying for the souls of victims that wars produce all around the world. According to my professor's words, I want to transmit my ideas though my painting, as best I can. Life brightens the most when Peace occurs. Peace is supreme beauty.

Kenji Yoshida 2007
Translated by Junko Abe
Yoshida has had numerous solo exhibitions in Austria, Belgium, Denmark, England, France, Germany, Israel, Japan, Mexico, Norway, Spain, Sweden, Switzerland and the United States and is represented in many prestigious collections around the world.
Selected Exhibitions
2009
LA Art Show, Glenn Green Galleries
2008
The Phoenician Resort, Glenn Green Galleries, Scottsdale, Arizona
2007
Chateau de Blois, Blois, France
2004
Large standing octagonal installation, Sei-mei, in Christ Church Cathedral, ...Dublin; Norwich Cathedral
Canterbury Cathedral as part of the Festival of Canterbury.
2002
Park Tower Hall, Tokyo, Japan
2000-2003
"Maya Series", Museum of Modern Art, Mexico City, touring to five cities in Mexico.
1998
Museo de Arte Moderno, Mexico City, Mexico
1997
Museum of Modern Art, Mexico City.
"Ancient Japan and the Maya"
February 20-April 20, 1997.
Contact Glenn Green Galleries for additional information.
1993
The British Royal Museum, London
International Contemporary Art Ltd., London
Glenn Green Galleries, Santa Fe, New Mexico, USA
1992
Galeria Sephra, Madrid
1991
Glenn Green Galleries, Santa Fe, New Mexico, USA
First living artist to be given a solo exhibition at the New Japanese Galleries of the ...British Museum.
The October Gallery, London
1990
International Art Fair, Chicago, USA (w.Galeria Venzor)
Boulev'art Galerie, Geneva, Switzerland
"25 Years of Atelier du Nord" Hovikodden Kunstsententer, Oslo
1989
Stockholm Art Fair, Sweden
Chateau Soenderbord, Denmark
The October Gallery, London
Invite au 6, Salon d'Automne de Thorigny-sur-Marne, France
1989
Galerie Bernard Letu, Geneva, Switzerland (w/Rikizo)
Galleri JdeV, Malmo, Sweden
1987
F.I.A.C., Paris (w/Galerie Galise)
1986
Galerie Galise, Thonon, France
1985
Galerie Galise, Thonon, France
1984
Galerie Galise, Thonon, France
1983
Art-Houre Gallery, Tokyo
Beni Gallery, Kyoto, Japan
Taiken Gallery, Osaka, Japan
1982
Galerie Alma, Lyon, France
L'Ecole de France, Geneva, Switzerland
Read More