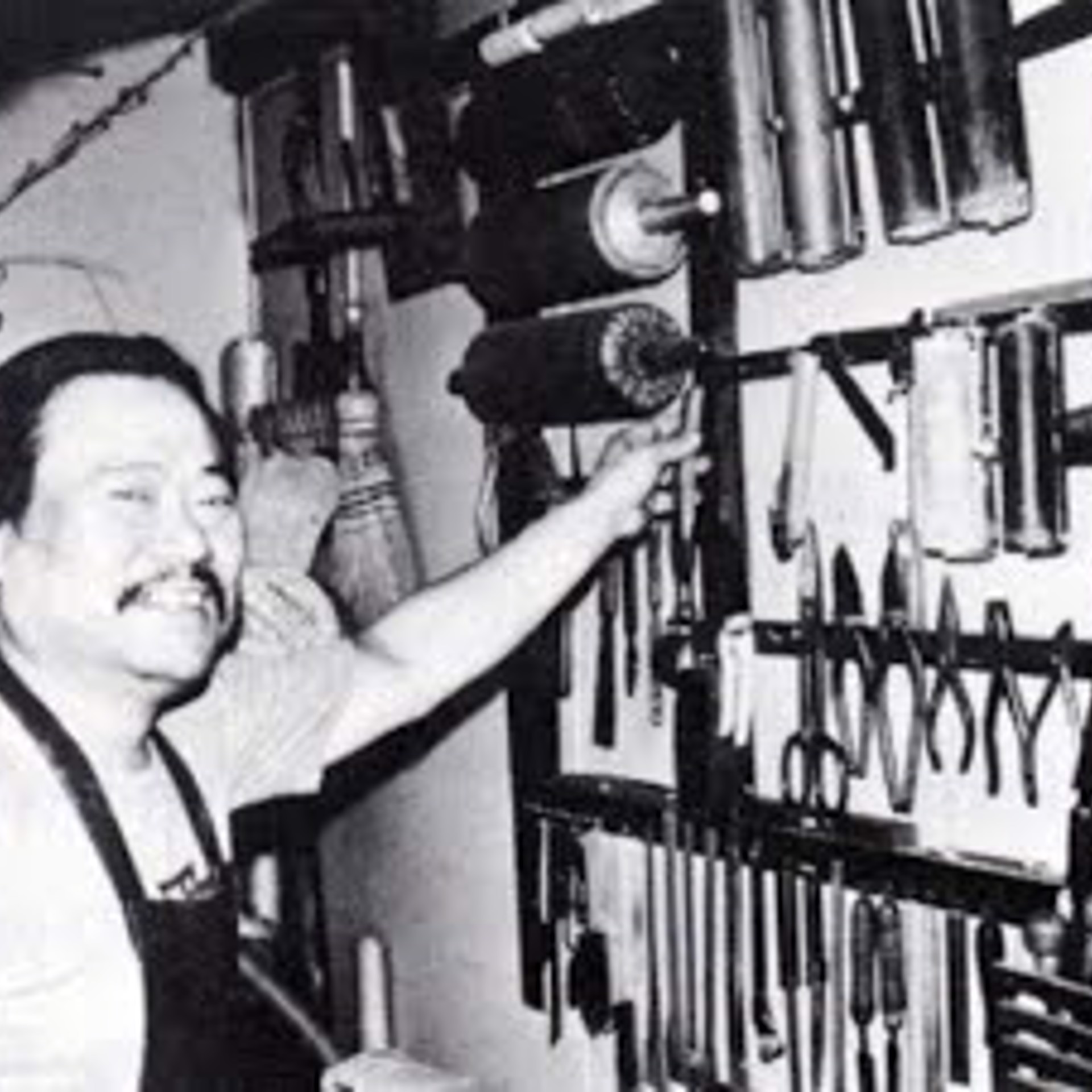 Born in 1926 in Kawasaki, Kanagawa Prefecture, near Tokyo, Ōuchi, an only child, "spent many solitary hours drawing and painting." However, his desire to go to art school was stymied by his parents and he attended Kanagawa Prefectural Technical High School, graduating in 1945. Drawn to the discipline required of the craftsman "and his own natural inclination toward a more direct contact" with his art he took up print making. Reading the few books available in Japanese on metal plate printing and seeking the advice of other artists working with metal plates, he initially created his own acrylic plates which he inscribed with drypoint techniques. He was to go on to use both metal and paper blocks in his printing, rejecting traditional woodblock as giving images a flat-look.

Drawn to the Kabuki theater since childhood he spent considerable time around actors, becoming familiar with their roles. His Kabuki-themed prints such as this collection's print "Shibaraku" (暫) reflect this familiarity. While traditional ukiyo-e themes are portrayed in Ōuchi's work, he places them within a modernist framework of cubes and cylinders giving a 3-dimensional effect.
"Cubes, blocks, and dimensional wall sections are all forms which Ōuchi is fond of using, for he finds in them the perfect shape enabling him to surround reality. Looking through old traditional drawings, the artist discovered an esoteric significance that delighted him. These old patterns enveloping the mysterious box are endowed with a new value by being placed in a fresh context."

"Ōuchi explains that the cube to him represents the man-made confinement of mankind, the intrusions on man's freedoms. 'Right angles are made by man, while curved lines - of fruits, for instance - are made by nature.'"
As to the artist's appropriation of images created by the great masters of Ukiyo-e, the print dealers and publishers Mary and Norman Tolman wrote:
"Ōuchi adores Sharaku's portraits, and they often appear in his own prints. Courtesans, actors, and landscapes by Utamaro, Hokusai, Hiroshige, and Kunimasa, as well as characters from Japanese fairytales and legends, are another source of inspriation - but inspiration only. Ōuchi uses them to revoke the past, but it is his originality that makes them contemporary."8
Ōuchi had worked with The Tolman Collection for a period , but as explained by Norm Tolman, "Ōuchi was a diamond-in-the-rough, heart-of-gold, shirt-off-his-back type, but somewhat hard to take when he was in his cups, which he often was, a circumstance that eventually resulted in strained relations between us."
Read More