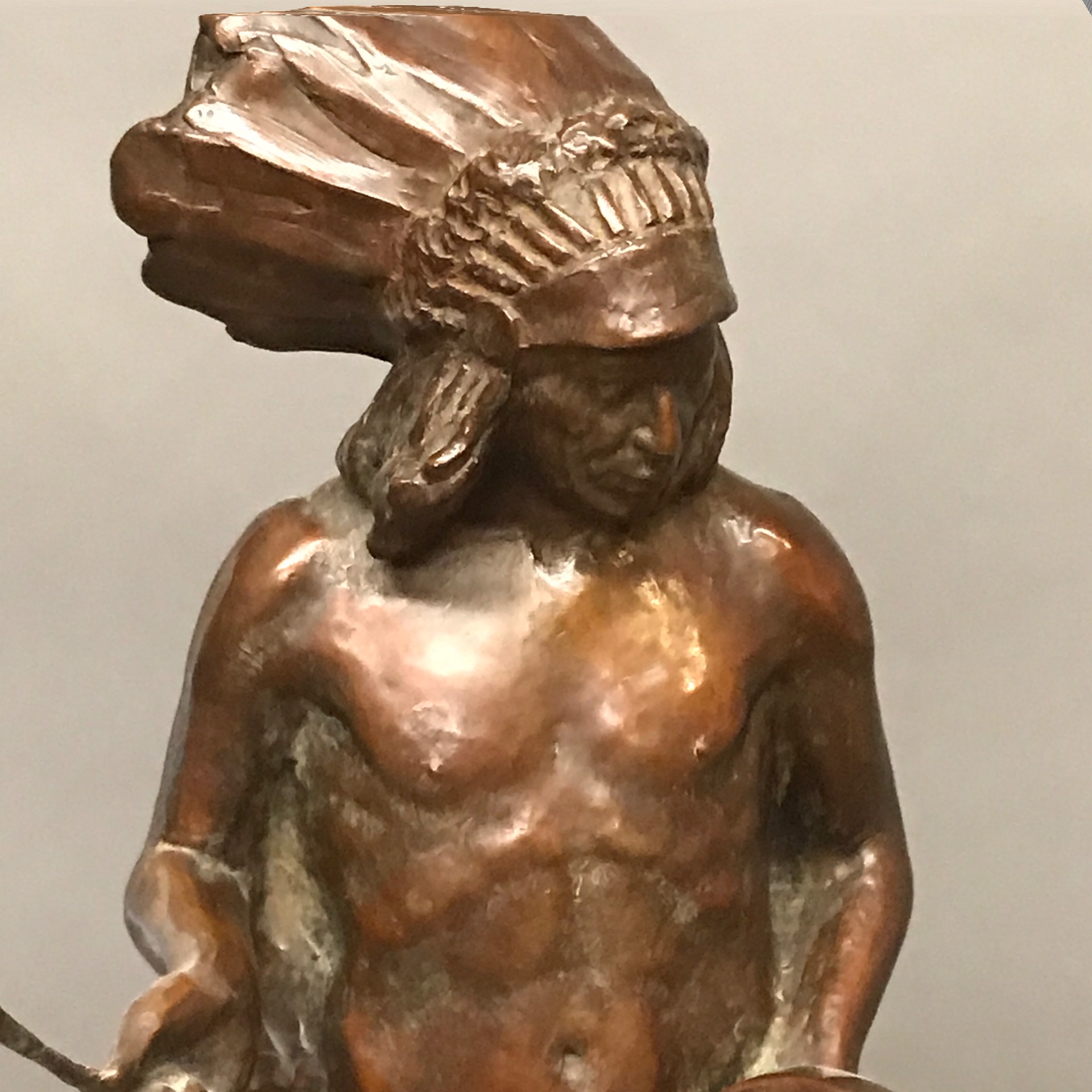 Paul Moore was born in Oklahoma City a member of the (Creek) Muscogee Nation. Moore has sculpted more than 110 commissions for numerous municipal, corporate, private, and international collections. He has received awards from the National Sculpture Society in New York City, the 45th Annual Cowboy Artist for America Show, and the University of Oklahoma.
Celebrating the Individual
Widely recognized for his work,
sculptor Paul Moore puts it simply:
"I speak best with my hands."
By Dianne Cauble
Exploring intrinsic human nature and the changing facets of personality, sculptor Paul Moore celebrates the individual, instilling the anonymous and the heroic with equal dignity. Revealing more than the simple image, he expresses the whole of life experience and the effects of endurance on the spirit. With each contour, texture, and movement, the sculptor achieves lull awareness, combining delicacy and strength of line to create a work as solid in feeling as in form. That essential design combines with the meaning of a piece to extend beyond mere surface reality; simultaneously effecting simplicity and restraint.
"I speak best through my hands, and see sculpting as a pyramid which must be built from a solid base. I constantly strive to simplify down to nothing. If the form is good, there is no need to hide it, and visually you'll see more than actually exists."
Currently dividing his time between commissioned portraits, monumental pieces, and other creative work, Moore previously spent several years in preparation as a foundry apprentice. There he learned firsthand the intricate processes of his art, along with some important instruction on what to avoid.
"Working long hours in a foundry six or seven days a week definitely taught me some valuable lessons. I gained a perspective that many sculptors never learn. I absorbed a tremendous amount during those years. And I had the opportunity to enlarge over 100 life-size and monumental pieces for other sculptors, both animal and human forms.


Though primarily self-taught, he cultivated his natural talent with the foundry work and through inspiration from previous master sculptors, including Daniel Chester French who created the Lincoln Memorial and Augustus Saint-Gaudens. Whose outstanding relief works influenced Moore's approach to the massive "Chisholm Trail" a 34-foot long relief commissioned by the City of Duncan, Oklahoma.
"'Chisholm Trail' was a real challenge not only in the approval process, but during the actual sculpting. I wanted to create the illusion of cattle moving off into the distance by having the piece gradually shift from low to high relief, then to three-dimensional form. All sculptors have to manipulate is light and shadow. The relief, though only a few inches thick in places, must give the impression that it's popping out at you."
To achieve the necessary effect, Moore relies on his comprehensive research of the masters, dissecting their work to see through the artistic magic. Whether commissioned portrait or gallery work, he always evokes an atmosphere around the piece, providing a heightened perception that changes with the viewers movement.
"Though I initially take a methodical approach, the artistic side must kick in. A totally methodical piece would be very sterile. I think constantly about body, muscle, and structure. I cover every inch, and though I don't always know what the essential elements are, it must have the ability to move independently. My primary goal is to capture the essence. In a portrait. I seek the most common trait that others will recognize. In the commission I did of former Speaker of the House Carl Albert. I sought to convey the strength and dignity of his character, just as I attempted to reveal the inner strength and reverence in an image of St. Francis."
"The human form is always interesting to me. My mind is constantly creating figures. When I walk down the street, I see someone in some pose and it will trigger an idea. To me the subject matter is enough to do the piece.
In addition to the tribute to House Speaker Albert and a recently completed sculpture of athlete Bob Mathias, Moore's rendering of Chuck Jones, former Director of Animation for Warner Brothers, has been accepted into the National Portrait Gallery. These works are symbols of his dedication to immortalizing Americans whose efforts have made a contribution to society.
"I enjoy the blending of different cultural traits in one piece. "From the Same Block" shows individuals representative of four different cultures standing back to back in a symbolic blending of humanity. I constantly try to tighten the composition. to render a more dramatic sculpture. If the form is good, why hide it?"
Moore admits that he dreams of eventually traveling around the world, sculpting people from various cultures. He is particularly intrigued by tribes in Africa and the South Pacific.
Focus/Santa Fe, October-November-December 1995, used by permission

PAUL MOORE
Born Oklahoma City, Oklahoma, 1957.
Citizen of the Muscogee (Creek) Nation.
Paul Moore has vast knowledge and experience in the design and sculpting of monumental sculpture and portraiture.
In 1995, Moore's bronze portrait of Chuck Jones, the creator of Bugs Bunny and numerous other cartoon characters, was acquired by the National Portrait Gallery, Smithsonian Institution, Washington, DC
He has been commissioned to design and sculpt numerous life-size and larger sculptures. His most recently completed work is a monumental eight-foot seated figure of University of Oklahoma President Emeritus George Lynn Cross, which is installed at the Norman campus. In 1995, Moore was commissioned to create a larger-than-life sized sculpture of Carl Albert, the 46th Speaker of the House for McAlester, Oklahoma. A second casting of the Carl Albert sculpture was placed at the University of Oklahoma in Norman.
"The Chisholm Trail" memorial, to be placed in Duncan, Oklahoma, is Moore's largest work to date. Commissioned by the McCasland Foundation, the 34 foot long monument will feature life-size steers, horses and cowboys, providing an exciting panoramic view of this American legend. "The Chisholm Trail" will take Moore approximately two years to complete.
In his portraits, Moore strives to render lifelike representations which go beyond physical characteristics, and which reveal something of the spirit of the individual. Possessing a keen sense of anatomical form, he also draws upon his intuitive ability to glean the essence of his subject's personality.
"I enjoy the process, the challenge of sculpting people and animals, especially bringing out the spark and personality of the individual subject which makes them unique. It's also very satisfying to interact with my subjects and gratifying to see there response to the work in progress. This interaction is a valuable life experience for me."
For seven years, Moore headed the Enlargement Department at the Shidoni Foundry one of the largest art foundries in the United States. He has more than 120 enlargements to his credit, with the tallest being 36 feet, including the 15-foot sculpture "As Long as the Waters Flow" at the Oklahoma State Capitol. Since establishing his studio in 1993, Moore has devoted his full-time efforts to creating a substantial body of work from his own original designs.
Commissions
and Installations

Portrait of Rod Iverson (life-size, posthumous), Collection of Peter Iverson, Pleasanton, CA.

Portrait of Governor John Simmns (life-size, posthumous), Collection of the University of New Mexico, Albuquerque.

Portrait of Thomas C. Hicks (life-size), Collection of Shidoni, Tesuque, New Mexico.

"Blanket Injun," Collection of the Embassy of the Federal Republic of Germany, Ottawa, Ontario.

Portrait of Nicolai Fechin (life-size, posthumous), Collection of the Fechin Institute, Taos, New Mexico.

Caduceus (6' high), Collection of OBGYN Associates Medical Building, Dr. Alfred Bassall, Farmington, New Mexico.

Portrait of Michael Cordone (life-size), Collection of Cardone Industries, Philadelphia, Pennsylvania.

George Maloof (life-size figure), George Maloof Memorial Building, Department of Motor Vehicles, Albuquerque, New Mexico.

Dr. John S. Rinehart Award (4" medallion), commissioned by Explomet, the first two award recipients were Dr. Mark L. Wilkins, Senior Scientist, Lawrence Livermore Labs, Livermore, California; and Dr. Andreya Deribas, USSR Academy of Science, Nobosibirsk, USSR Portrait of Dr. William Schackel (life-size), Private Collection.

Portrait of Reese Phifer (life-size), Collection of Phifer Wire products. Tuscaloosa, Alabama.

Vietnam Memorial (6.5 feet), Quachita Baptist University, Arkadeiphia, Arkansas.

Portrait of Zach Clayton (posthumous, life-size), Collection of William and Virginia Clayton Felch.

Portrait relief of I. H. Kempner, Founder of Imperial Sugar Co., Imperial Sugar Company, 150th Anniversary, Sugarland, Texas.

Portrait of David Huddleston (life-size), Private collection.

Portrait of David Nordahi (life-size), Private collection

Portrait of Dick Trudell (life-size), Private collection

Portrait relief of Elizabeth George Plouffe, collection of Skip Hayward, Foxwood Resort, Ledyard, Connecticut.

Linda Lavin, (life-size figure) Private collection.

Carl Albert, 46th Speaker of the House, (11/4 life-size figure), Collection of the city of McAlester, Oklahoma; 2nd casting, collection of the

University of Oklahoma., Norman, Oklahoma.

Portrait of David Lavin (life-size posthumous), Collection of Linda Lavin. Portrait of Betty Price (life-size), Private collection

Portrait of Chuck Jones (life-size), collection of Smithsonian Institution,

National Portrait Gallery, Washington, D.C., and collection of Warner Bros. Studios, Burbank, CA

North America wall relief (5 ft. diameter), Collection of Chesebrough-Ponds USA Co., Greenwich, CT.

Portrait of George Lynn Cross (two times life-size figure), Collection of University of Oklahoma, Norman, Oklahoma

Portrait of Bob Thaves, creator of "Frank and Ernest" comic strip, (life-size), Private collection
Read More